DANCING WITH RAW DARK CHOCOLATE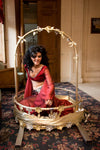 Dancing and raw dark chocolate are my life goals.
Chocolate and dancing are part of who I am. I have been dancing since a very young age and always LOVED raw dark chocolate, I mean really dark raw chocolate. I wanted to start early on, but my parents could not afford it.
I was asking all the time but with the multiple refusals, I realized I had to stop dreaming. As soon as I started to work at age 13, I paid for my dance classes. My first attempt was in Modern Jazz.
It didn't do the trick though. Jazz was not my thing.
By age 14, I was still playing basketball and I wanted to get the beautiful moves that you could see on the playground wherever I was playing. Especially with the guys of the slums I grew up with. They had such an amazing style. I wanted to match their skills.
That's when I started hip hop. I actually got much better in basketball and was the only girl in high school playing with the boys!
I just love to move into the music. I also find that the physical strength you need to get into the steps and the creativity or freedom you can express is just infinite.
It's like making a beautiful raw chocolate treat that would be amazingly good, but also good for you. It all starts from the right raw purest ingredients found in nature, the love and energy you put inside. Like HNINA chocolate!dark 
I've been dancing every day at least 10 minutes. My schedule is pretty busy but each day after exercising, I dance.
A few years ago I started belly dance.
It has been also an amazing discovery. Isolation of your hips, each section of your tummy, your shoulders your body as a whole is a matter of concentration and control.
I got hooked and started to mix them both. And that's what I'm about
I love discovery, learning and bridging gaps. Now you know that I love mixing disciplines. This is the reason why Gourmet for me has to be healthy and healthy gourmet.
Meanwhile, most chocolate makers use impersonal machines and dead, toxic, or inflammatory ingredients.
We use ONLY pristine raw unprocessed ingredients that we purchase from hard worker farmers that don't take shortcuts, steam, pasteurize, roast or irradiate their beautiful products.
They don't use pesticides and do it the old-fashioned way. The raw chocolate is good because of their hard work!!!
You are as happy as you are healthy. What you put inside your body matters. All you need is care.
That's why we want to be happy and choose ingredients that are the healthiest to reach this goal.
Note: Our raw dark chocolates have ZERO genetically modified ingredients (no GMOs), no extract, no pesticides, no palm oil, no dairy, no emulsifier, and no wax…just simple flavorful unprocessed ingredients.
HNINA chocolates are still delicious, loaded with antioxidants, and full of nutrients. Nothing else. HTTPS://WWW.HNINAGOURMET.COM/HNINAS-MISSION.HTML
Leave a comment
Comments will be approved before showing up.