Yes I am a sport and a dark chocolate addict. Guess what, they keep me fit, happy and alive.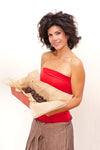 I know that it can be very counter intuitive to think that someone who loves sports since she was a child, can eat dark chocolate every day. Yes I do it every single day...
I have been a dark chocolate addict all my life and yes, at times I was more curvaceous than others.
You know why, because I did not know what sugar could do to me. You always think, that's OK, I will burn it off tomorrow but then you do not realize all the glycation and inflammatory reactions that can happen in your body while consuming refined glucose or refined fructose. 
I have always exercised since I remember. My parents had to teach me how to swim at 2 years old because I was so attracted to the water that I was just going in there with no protection. 
If there was one girl with all the boys on the volleyball and basket ball playground in high school or in my cite, well it was me. Maybe the fact that I grew up surrounded by boys made me the way I am. When my body does not run, move or gets challenged, I get depressed. This is just me. 
When pregnant with my two babies, I could not stop eating my dark chocolate but I definitely had to put an end to my sugar consumption. 
Feeding three poeple at the same time can be extremely challenging, especially when you are trying to avoid gestational diabetes. Creating Hnina allowed me to do that. Since then, I had it each day except when I accidentally dislocated my knee three months after giving birth to my twin babies. And I missed Hnina...
So this is what it does for me:
Gives me all the protein, nutrients, antioxidants that I need to thrive.

Provides me with the feeling of happiness and satisfaction that you can only get... well, when you are truly nourished. 

Makes me feel that I am in love (well I am too:))

Allows me to have more energy even post training. Does it make sense? 

That's what real food is about, getting us satisfied, full of nutrients, happiness and energy.
Hnina helps me to keep my 6 packs. As a chocolate maker I owe it to myself... 
Leave a comment
Comments will be approved before showing up.